John Rember
This journal entry was originally published on John Rember's End Notes Blog here. We feel very grateful that he gave us permission to republish it! 
We had an earthquake last week, and at first it wasn't a metaphor. At 5:52 p.m., on March 31, a 6.5 Richter-scale earthquake hit about 20 miles north of us. I was sitting on the couch in Julie's office, holding a glass of wine and watching PBS Newshour pandemic coverage.
 At first I thought it was snow falling off the house—it had been snowing all day and there was a foot of snow on what had been a bare metal roof—but after ten seconds or so, I realized we didn't have enough snow or enough roof to account for the continuing roaring and shaking. A shelf of antique bottles above Julie's computer started wobbling, and four of them fell off, missing her computer screen and bouncing unbroken on the carpet.
 That was the extent of our earthquake damage, at least until the next morning, when we noticed that our well water had turned orange. It cleared up a day later.
We got lots of emails and phone calls from friends and family. We wondered if the frogs would show up before or after the locusts. We wondered about the schedule of those four guys on the multicolored horses.
The next day, when the weather turned sunny, we could see the slide-paths in the Sawtooths, and giant gouges in deep snow where huge boulders had tumbled down steep couloirs.
 We skied new powder, and then, after the sun had done its damage, we skied new powder topped by serious breakable crust. Julie made it look easier than I did. I had one hard fall when my skis persisted in going one way while I went the other. Afterward, it was evidence that the body has its own tectonics, as my joints are a bit more flexible than they had been, albeit prone to painful aftershocks.
Today we'll ski up a local canyon, where we can climb for an hour and then shoot down our tracks to the car in ten minutes, or even faster if we don't wait for the dog. We always wait for the dog.
In a warm week, our foot of new snow will have melted to an inch of skiable corn snow. If it remains cold, we'll continue with breakable crust. It was minus 5 last night, minus 9 the night before. The calendar indicates April, but April has yet to arrive.
________
The cold weather and a statewide lockdown have discouraged visits from our neighbors in Blaine County. They're having a tough time down there, with 400+ coronavirus cases, more than any other county in Idaho—more per capita than any place in the country—and 25 hospital beds and one ventilator.
The Sun Valley Resort is closed, its ski lifts stilled. Bars and restaurants in Hailey and Ketchum are empty and dark. The lockdown urges everyone indoors. If people need to go out for groceries, recreation, or virus-free air, they are told not to cross county lines to get them.
These are harsh measures in what was, until March, a winter playground full of athletic, road-tripping, bar hopping, highly social people who usually prefer hugs to handshakes.
We still see cars with Blaine County plates, but leaving one closed-down tourist town for another—whose tourist season hasn't even begun yet—probably isn't going to help damp down the pandemic or even improve your mood. Our bars are closed, too, and the cashiers at the grocery stores ask people where they're from.
 Walking back from skiing, we look at license plates, and then at drivers. We wave, but they don't wave back.
We're seeing the occasional pickup or SUV parked on melted-out turnouts above fishing holes in the Salmon River. Spring steelhead season is here. Cabela's-dressed fisherpeople are wading through drifts to the riverbank, keeping social distance between themselves and their guides.
It's early in the season for fish. Even on partly sunny days, snow squalls whirl over the water and riverbanks.
Past fishing expeditions included going to a warm bar after a day of frost-stung cheeks and eyes, lost fish, and missteps into too-deep-for-your-waders water. Once there, you told fish stories to people who told you fish stories of their own. But now the bar isn't warm, and the bartender wouldn't let you in even if it were.
The pandemic has brought with it an uncomfortable truth about tourist economies—that without a narrative to accompany your experience, there isn't much cause to become a tourist. A bike tour, a road trip, a hike with crusty retired professors through the Lake District, a mule-ride into the Grand Canyon, a celebrity sighting at a hot-spring spa—these are all stories first and trips second. Their power lies in anticipation and nostalgia, before and after.
You booked a trip, you saw, you returned to tell the tale. The tale is what you have to show for your time, effort, and money. Now all you need is a place to tell it, and an audience.
________
For most of my life I've been a student of the tourist industry. My father was a fishing guide on the Salmon River, back when it still had salmon in it. As a child, I would wake up to my father and his clients arranging fresh-caught chinook salmon on our lawn for photo opportunities. I would listen to some of those clients tell my father that they would trade their lives for his in a minute, even though they were nationally important people, presidential aides and CEOs of giant companies and pioneering heart surgeons and book-writing New York psychoanalysts.
As I grew older, I realized that my father was not selling fish—those could be had, for considerably less money, at any supermarket. Instead, he was selling his story, which talked about living with his family in a small house in backcountry Idaho, fishing and hunting and trapping for groceries and mortgage payments, and getting up each day prepared for a complete change of plans.
The most important components of his story were those changes of plans. They were moments of thinking-on-his-feet authenticity. That's what he intuitively knew his clients wanted, and I've wondered if his clients who were psychoanalysts shared his intuition, and if their experience on the river consisted of fleeing their own dogmatic self-control for a quick half-hour of having a big fish on the line.
That's what most of my father's clients were seeking—a moment of authenticity, something real, something to take home when it was all said and done, something to distinguish a life from a profession, something that would take up a sentence in the obituary.
I forgot myself for a moment, says the psychoanalyst, and I will value that moment forever. Come to think of it, that's what the CEO and presidential aide and surgeon say as well.
________
What happens in a tourist economy when the stories can no longer be told, when social intimacy can no longer be practiced? When the money isn't there for hotels and restaurants even if they were open? We're getting a hint from the ads on the Boise TV station, which are flogging recreational vehicles and SUVs. Family units—Mom, Dad, and two kids—are seen hanging up the game consoles in their living rooms and escaping to the wilderness in their trailers and campers and tents. The RV dealerships are "Stacking Them Deep and Selling Them Cheap."
I fear that we're going to see a lot of those family units here in Sawtooth Valley this summer. There won't be a lot of places to park them, because Idaho is a state where the flat spots add up to an area the size of Delaware, and a lot of that has No Trespassing signs on it. Other family units are going to be competing for parking spaces and warning their kids not to play with other kids. Meals and drinks once purchased in bars and restaurants will be prepared in aluminum boxes scaled up from solar ovens. Some of those boxes, by the end of the trip, are going to seem too small and hot for the family unit.
Sawtooth Valley is planning for business as usual this summer. I don't know what the numbers will be by then, but I do know that the business-as-usual people will be comparing them to something worse, like the 1918 flu or the Black Death or Italy.
Restaurants will be open. So will bars. Guide services will be guiding. Whitewater river companies will be rafting. Campgrounds will be camping. I can say this with confidence because most local income depends on tourists coming to our valley. Mortgages and business loans have to be paid. If we had had social distancing when my father was guiding, our family would have gone broke, and I wouldn't be sitting here in Sawtooth Valley today.
When you have to make all your money in four months, you're not going to let a little pandemic get in the way.
 ________
By 2019, tourism in Sawtooth Valley had become far less authentic than when my father was a fishing guide. Experience had become standardized. The salmon in the river were domesticated stock. The mountains and streams and lakes people came to see were obscured by tour groups, dusty trail rides, interpretive signs, planted fish, and lakeshores pounded into dust by too many hiking boots.
We were accustomed to experience that had been forcibly groomed to millimeter tolerances, mainly because clients retained attorneys for any surprises. We knew what to expect. If you were support staff, our summers were like working a Caribbean cruise, or Disneyland, or Yellowstone. As a tourist, if you had to get a Chamber of Commerce brochure to see something, you knew somebody had gone to a lot of trouble to ensure the predictability of what you would see.
In 2020, things are threatening a return to authenticity.
I am dreading the approach of tourist season, and not because last year a million tourists visited our valley from June through September. It's because we have no idea how many of them will return this year, and what their expectations will be. Will they assume they're coming to a place where they can forget coronavirus happened? Will they still queue in long lines outside the Stanley Bakery, waiting patiently for a place at the crowded tables? Will they shun each other, or us, or just Blaine County people? Will they leave telling stories that say at this moment, this thing happened, and it was real?
I'm afraid there are going to be lots of chances for thinking-on-your-feet this summer, not all of them worth paying a guide for.
This summer, people will be fleeing authenticity. Inauthenticity will come at a premium because it promises a safe refuge from the ground that's shaking under your feet, or the story that's too lonely to tell.
People are going to lie to themselves, I think. They're going to make up stories about coming here before they're here, and then they're going to try to live them when they are here. They're going to pretend that the Sawtooth Valley they visited in 2019 is the one they're visiting in 2020.
The stories, like all lies, will get messier and more fantastic with each telling. Telling it will be the easy part. Finding an audience willing to believe it will be harder.
---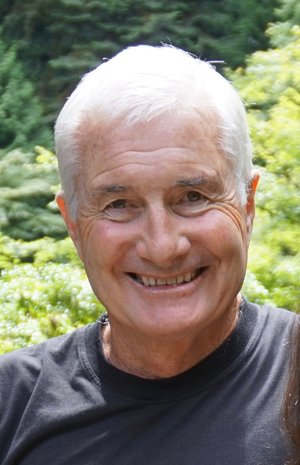 John Rember was born in Sun Valley, Idaho, and grew up in the nearby Sawtooth Valley. His mother was a nurse at Sun Valley Hospital and his father drove ski bus and worked as a miner, fishing and hunting guide, trapper, and mechanic. John was educated at Harvard and earned his MFA at the University of Montana. He has worked as a ski patrolman, wilderness ranger, technical writer, concrete and construction worker, high school teacher, bartender, journalist, and professor. He taught for many years at The College of Idaho in Caldwell and in the Pacific University MFA program in Forest Grove, Oregon.
John's latest book, A Hundred Little Pieces on the End of the World (University of New Mexico, 2020) is a meditation on teaching, writing, and friendship in an increasingly fragile world. His other books are MFA in a Box: A Why to Write Book (Dream of Things, 2010), his memoir Traplines: Coming Home to Sawtooth Valley (Vintage 2004, Pantheon 2003), and three short story collections: Sudden Death, Over Time (Wordcraft of Oregon, 2012), Cheerleaders from Gomorrah: Tales from the Lycra Archipelago (Confluence, 1994) and Coyote in the Mountains (Limberlost, 1989). John has also written numerous articles, stories, and essays for publications ranging from Travel and Leisure to Wildlife Conservation to High Desert Journal to The Huffington Post.
John lives in Sawtooth Valley with his wife, Julie.